Maggie's birthday was the end of August, and Haley's 13th birthday is today. I made them both custom box purses, both VERY heavily lacquered. The surfaces look like glass I put so much varnish on them. I had mentioned that I would post pictures of them once they were made, and I totally forgot to do that. Yeah. So here they are.

Maggie's purse is a collage of pictures from her life, starting with one of her mother Gail when she was pregnant with Maggie up until the present. The sides are done in my own artwork.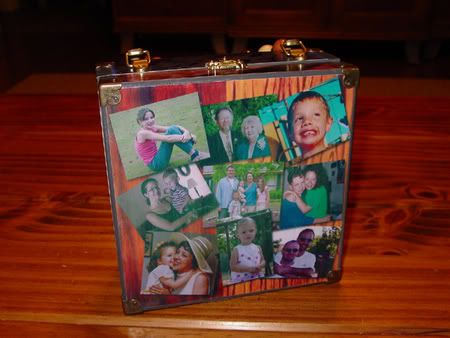 This picture on the inside is a piece I did two years ago of Maggie, that little picture in the corner closest to my hand is a picture of her mother Gail giving Maggie a kiss when she was one year old.


---

Haley's purse was inspired by Vanity Fair magazine, for obvious reasons. She's all about fashion, so it was good that I saved all my old VF issues - they came in handy for this piece.